The film adaptation of the hugely successful stage play arrives, bringing new scares in a hugely compelling anthology tale.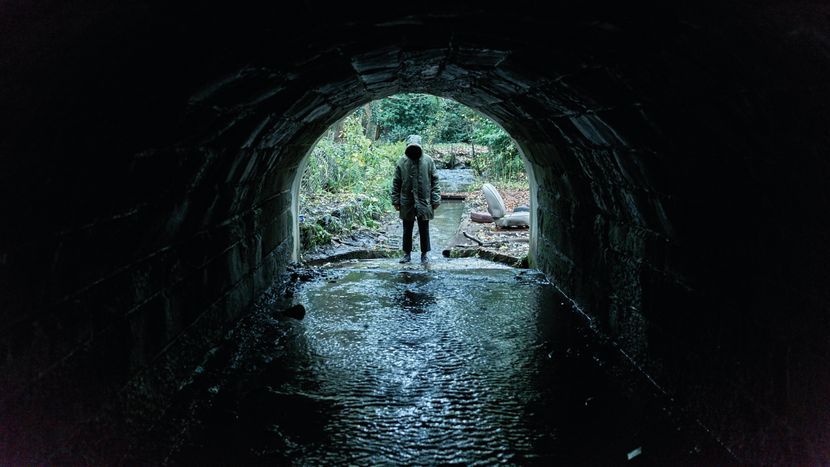 I should preface this review with the fact that I am one of the people who saw the stage play a total of three times and therefore my experience of the film is clearly marked by that.  I've always considered that being a fan of Ghost Stories is a bit like being in an exclusive club of sorts.  This has its advantages (being in on the secrets and having a really fun shared experience) and also disadvantages (an inability to talk at great length on it without spoiling for others).  At the close of the play and also at the end of a Q&A featuring directors and writers Jeremy Dyson and Andy Nyman, following the screening everyone is asked to keep the secrets of Ghost Stories.  This review intends to do just that by remaining spoiler-free.
Professor Philip Goodman (Andy Nyman) is more than a sceptic.  He actively chases those he deems to be con artists through his show Psychic Cheats, inspired by an academic who has mysteriously disappeared.  The academic enlists Goodman's assistance in the investigation of three cases he has been unable to fully debunk.  What follows is a dark exploration of ghostly encounters and the marks they leave on those affected.
The three cases are comprised of a night watchman (Paul Whitehouse), a student (Alex Lawther) and finally, a businessman (Martin Freeman).  With such a small ensemble and the format of the anthology film limiting screen time, it becomes more important that each character is dynamic and instantly fully-formed.  Whitehouse is a real triumph and follows successfully in a long line of comedians lending their talents to darker, more dramatic material.  Lawther too, excels as a student undeniably impacted by his experience, but manages to add comedy among the pathos.  Freeman is the perfect choice for the self-involved businessman and it is a role he performs well.  Lastly, Nyman's performance maintains the intensity of the stage role, but offers even further insight to his background and mentality.
The original aim of Ghost Stories as a play was to put familiar horror tropes onto the stage in a way which felt like something new.  This is reflected within the film adaptation and certainly has retained the stage play's reliance on Nyman's stage magic background in creating set pieces that feel profoundly unnerving and different to other scares.  There are a few moments where it feels like the medium of film has forced Dyson and Nyman's hands in revealing more than is comfortable under budget restrictions and would possibly be better left as suggestion.  However, I also think there is a possibly thematic reasoning for the choices, which I clearly can't divulge, but hopefully others see it this way too.
I am normally the first to complain about films which use excessive volume to emphasise scares and there are certainly more bombastic moments in which this is the case.  However, this is balanced by emotionally-led stories in which the quieter moments are the ones which stay with you long after the jump scares.  A booming score from Frank Ilfman, known for the impactful soundtrack for the fantastic Big Bad Wolves (2013) adds real atmosphere and sets the tone, particularly in earlier scenes.
The film is clearly aware that people who have and have not seen the stage play are watching.  As such, there are a number of elements which nod toward the stage version without alienating viewers who are new to the story.  This provides nice moments of recognition and encourages a second viewing.  For those who have seen the stage play however, there are enough differences which make the experience worthwhile.
In summary, Ghost Stories is thrilling, taught but also thoughtful, particularly surrounding the social and cultural need for the sharing of stories of the supernatural.  Brief moments of comedy allow for the occasional deep breath and sense of relief without dismantling the tension.  At the time of writing this review, very little publicity exists for the film, aside from the photograph used here.  Until the film is on general release (possibly in April 2018), I would recommend people avoid too much in the way of trailers and posters to embrace the full impact of the final film.
Ghost Stories screens at the BFI London Film Festival at Hackney Picturehouse on Saturday October 14th.  Tickets are currently sold out but check here for updates.